Terrorism Recidivism Study
By:&nbspGrace Meyer&nbsp &nbsp Email:&nbsp meye8826@vandals.uidaho.edu
Home Town:&nbspSandpoint, Idaho&nbsp &nbsp High School:&nbspSandpoint High School, 2019
Major: Psychology, Sociology-Ineql & Glblztn Emph, Sociology-Criminology Emph
Department: Psychology/Communication Studies, Sociology & Anthropology
College: College of Letters, Arts and Social Sciences
After the terrorist attacks on the World Trade Center on September 11, 2001, the government enacted policies that resulted in the capture and detention of alleged terrorists to be held in Guantanamo Bay. The rush to hold those involved in international terrorism led to a quick rise in population at the naval camp, with over seven hundred people detained throughout its history (Renard, 2020). With only thirty-nine people remaining (5% of the total population), many of those previously detained have been fully repatriated (Rosenberg, 2021). Unfortunately, although there are numerous sources that summarize the demographics of individuals detained in Guantanamo (see, for example, Beecham, Yazici, et al., 2020), there is no collective source of information on the recidivism rates of these individuals. Without this information, the ability to understand the need for and effectiveness of such a facility is limited. Results indicate that extremists that are processed through the criminal justice system and detained in the federal or state prison system have low recidivism rates at about 1.6% (Hodwitz, 2019). Guantanamo, however, is part of the military system and, while it appears that the criminal justice system is effective at reducing recidivism, we cannot say the same about the military system since our understanding of recidivism of Guantanamo Bay detainees is limited.
The TRS study consists of two phases. The first part involved gathering information on the recidivism patterns of those processed through the traditional criminal justice system, resulting in the aforementioned 1.6% recidivism rate. The second phase or Guantanamo Recidivism Study, examines those processed through the military system, leading to detention in Guantanamo. This phase entails collecting information on the history, capture, detention, transfer, and most importantly, recidivism of detainees. It gauges the effectiveness of the military system in deterring recidivism and will allow us to compare the military system to the criminal justice system, providing a more comprehensive understanding of this phenomenon.
Methodology and Objective
I . Identifying previous and current detainees at Guantanamo Bay Naval Base in Cuba. Utilizing publicly accessible sources including declassified government documents, public databases, media articles, and systematic and web-based search engines. This allows for the discovery of publicly available information on detainees and the collecting of information leading up to their detainment at Guantanamo Bay, as well as the results during and after their time in custody.
II. Coding case information on each detainee. Assigning text-based and numeric values to variable fields. Performing quality control to ensure accurate and detailed information is entered into the database
III. Completing data analysis to understand the complete findings generated from what is entered into the database.
The objective of the TRS database is to compile and understand the detention, release, and recidivism of Guantanamo detainees. Although we know a great deal about recidivism rates among regular apolitical offenders, we know very little about political offenders or extremists. Examining recidivism rates will help us understand how to prepare for the release of incarceratedterrorists and how to potentially mitigate further offending. Do military facilities reduce recidivism? Are they as effective as traditional criminal justice facilities? What factors in both facilities are likely to decrease recidivism? In other words, a complete understanding of the criminal actions perpetrated by detainees is important for future policy.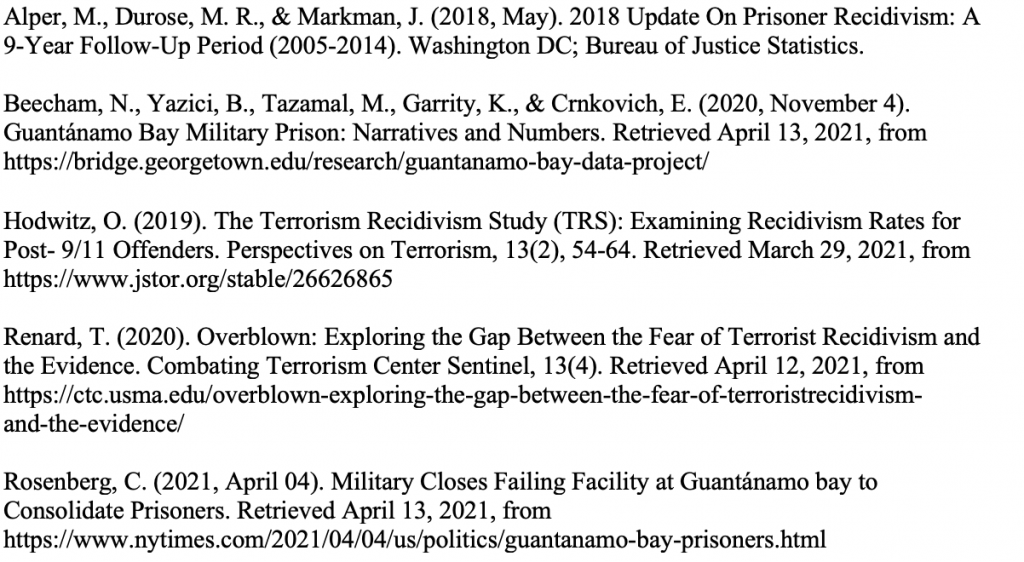 ---
Products Produced:
---
Additional Project Information:
Year in College Project Started:&nbsp Senior
Faculty Advisor: &nbsp Omi&nbsp Hodwitz
Faculty Advisor Email: &nbsp omi@uidaho.edu
Faculty Advisor Website: &nbsp
Funding Source:&nbsp University of Idaho Office of Undergraduate Research
External Link to Project Information: &nbsp
Project Location: &nbsp Moscow, Idaho